SPORTIME Summer Tennis & Sports And Multi-Sport Camps - Manhattan
888-698-3664
Several locations in Nassau, Suffolk, Manhattan, and Westchester

[email protected]
Who We Are
JMTA Camp
Under 10 Camps
Soccer Camp
About Sportime NYC Summer Camps

SPORTIME's summer camp programs challenge campers' abilities, while enhancing their self-esteem and providing positive social interaction. We offer campers the best tennis and sports programming, with experienced, qualified counselors and sports professionals, and the finest and safest facilities in NYC.
Meet Our Team

Lawrence Kleger
- Co-Director of Tennis, JMTA
Lawrence, a native New Yorker, is recognized as one of the top developmental coaches in the USA. He was named the USTA/Eastern Section Tennis Professional of the Year in 2013 and the USTA/Long Island Region Tennis Professional of the Year in 2006. Lawrence has trained more ranked juniors than anyone in the history of the USTA/Eastern Section. His students have won numerous USTA National Junior Championships, won more than 20 USTA Eastern Year-End Sportsmanship Awards, and have received countless full tennis scholarships to play at Top Division I colleges and universities.
Patrick McEnroe
- Co-Director of Tennis, JMTA
On the tour, Patrick won one singles title and 16 doubles titles, including the 1989 French Open Men's Doubles title, during his 10 year professional career, and achieved career high rankings of World No. 28 in singles and World No. 3 in doubles. After retiring from the tour in 1998, Patrick had a successful run as U.S. Davis Cup captain, the longest tenured captain in U.S. history, winning the cup in 2007.
Mark Bowtell
- Camp Director
Mark hails from Dublin, Ireland where he trained at the National Tennis Academy from the age of 12. As a junior, Mark was nationally ranked in the top two in every age division. He won and was a finalist in several ITF junior events and earned an ATP ranking in 2010. Mark played Division I collegiate tennis for Louisiana State University, graduating in December 2012 with a Bachelor of Science degree in Sports Administration.
Dijana Stojic
- Director of U10 Programs, SPORTIME & JMTA
Dijana is a native of Bosnia-Herzegovina where she was a member of the Fed Cup team from 2003-2008. During her professional career she also reached a career high WTA ranking of 363 in singles and 567 in doubles. After retiring, she traveled to the United States to attend the University of South Carolina where she was one of the top Division I tennis players in the country. Dijana reached the Elite Eight at the NCAA women s tennis tournament in 2008 and was an All-SEC player in each of her four years of college.
Richard John Mensing
- Director of Performance and Junior Athletic Development
Richard hails from Richmond, Virginia and comes to Sportime with over 20 years of professional experience as an athlete, coach trainer and athletic educator, working in numerous sports with athletes of all ages and levels. In Spain, he received a Certificat D Eesport i D atletisme iNutricio at Universal Atl tico Institut. He has over 20 years of professional experience both as an athlete and coach (ATP, WTA, Junior Olympics, etc.), coaching the likes of Victoria Azarenka, Sergei Bubka, Greg Louganis, Reggie and Cheryl Miller and JMTA's Noah Rubin.
JMTA Tennis Training Camp
(Ages 7-18)
JMTA Tennis Training: At JMTA, we train 52 weeks a year and curriculum features a combination of drills, technical and tactical coaching, match play, and off-court athletic and cross-training, specifically tailored to the ages and levels of each JMTA player group. Our world-class directors carefully evaluate students, place them in small age and level-appropriate groups, and customize programs to meet their developmental needs.
Private Lessons
JMTA students can supplement their camp tennis training with our world-class tennis pros. Our tennis professionals tailor lessons to fit the needs and level for our aspiring tennis players.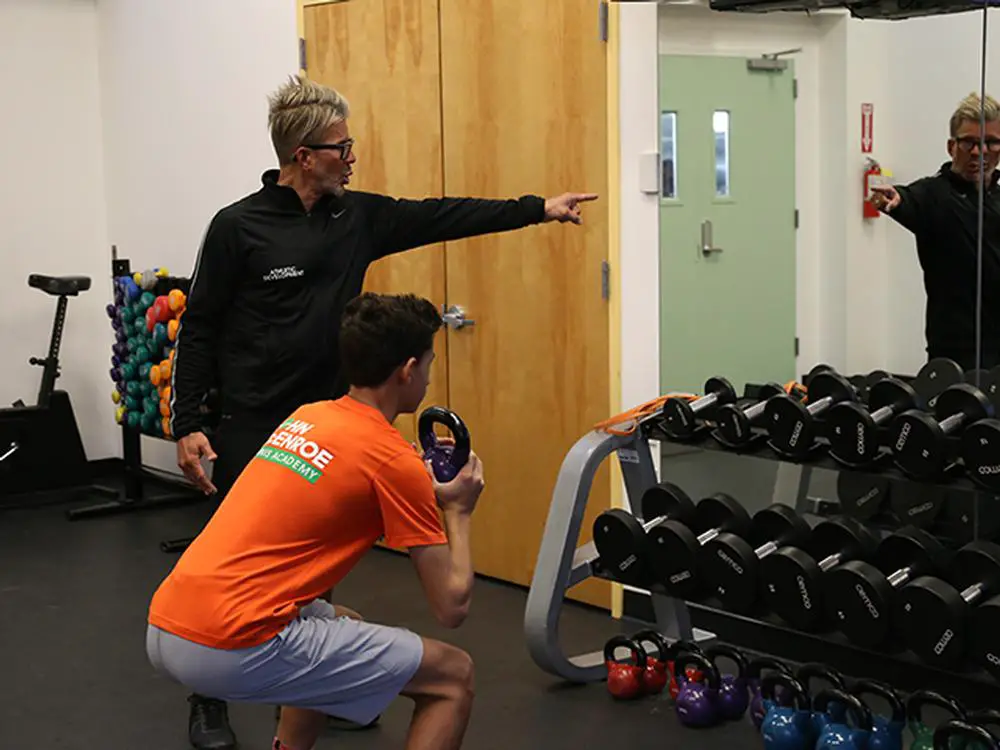 JMTA Athletic and Performance Training
JMTA's APT program is designed to help tennis players improve their on-court performance through increased strength, flexibility and mobility, and to reduce the risk of injury. The JMTA APT program has been developed by performance director Richard-John Mensing Jr. and is implemented at JMTA by certified athletic training coaches.
Preschool Camp
(Ages 3-5)
Your child receives personalized and caring attention in a safe and age-appropriate learning environment. The TW camp day includes arts & crafts, specialized tennis instruction, a variety of multi-sport lessons and games and our slip n' slide water feature. A typical camp day schedule is from 9AM – 12PM.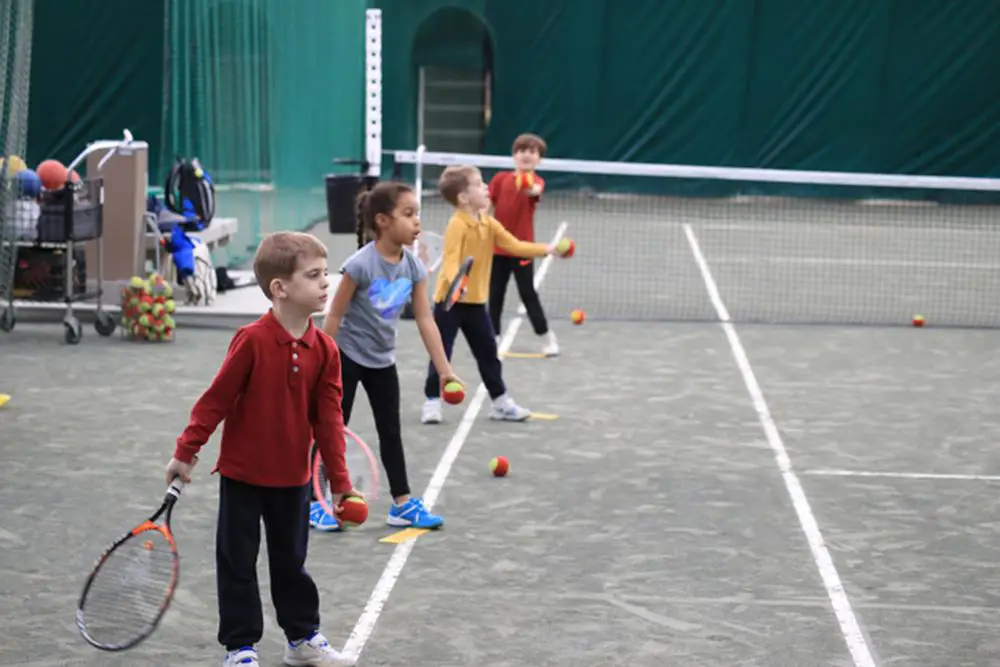 U10 Mac Red/Orange Ball Camps
Ages 5-10
Our U10 Red and Orange Ball Tennis and Sports Summer Camp offers young athletes high-quality, professional tennis instruction by John McEnroe Tennis Academy coaches. In the SPORTIME/JMTA Tennis Pathway, campers work through clearly defined stages of development that follow an internationally accepted progression of court sizes (red 36 , orange 60 ) ball types (red, orange) and net heights that make it possible for kids to actually play tennis from the moment they step onto the court. With our fun and unique gamification approach, players don t just take lessons, they get sent on missions, acquire skills, collect points and achieve milestones. A typical camp day schedule is from 9AM 4PM.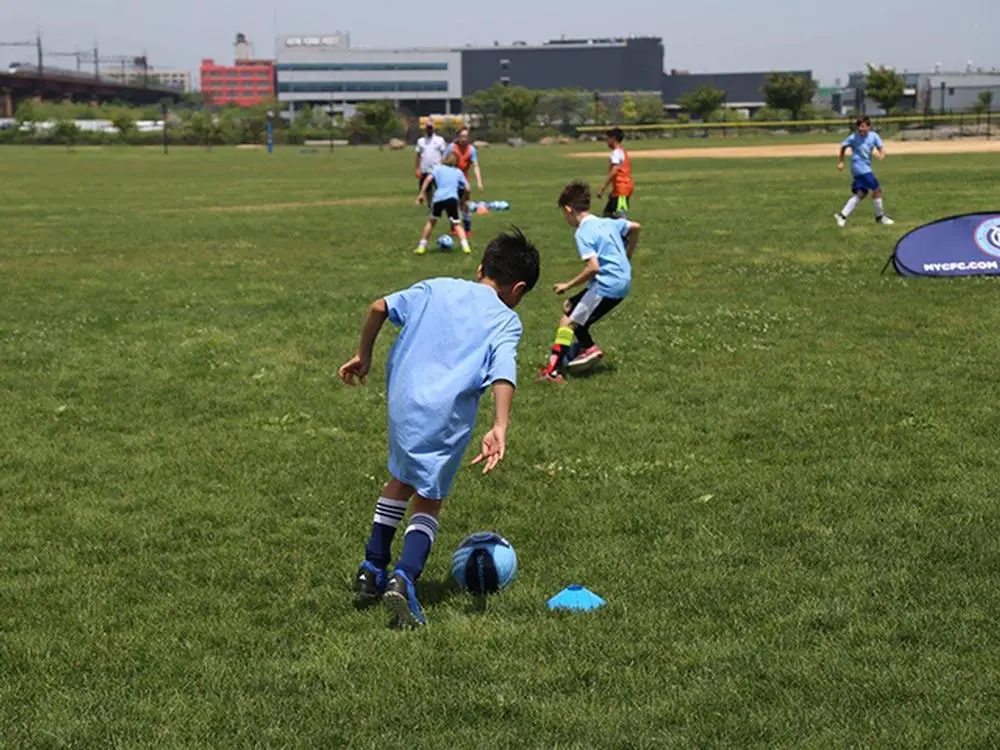 NYCFC Soccer Camp
Ages 7-14
The NYCFC Soccer Camp is designed for athletes of all levels who are eager to learn the fundamentals of the sport. Conducted by professional youth instructors from NYCFC, all training sessions involve a wide range of soccer specific skills including; ball mastery, technique development and team play. Just as important as on-the-field instruction, the camps will help build character, respect and sportsmanship – all core New York City Football Club beliefs.
Please send me information about SPORTIME Summer Tennis & Sports And Multi-Sport Camps - Manhattan
Find More
Meet the Director

The training camps will be directed by JMTA director Lawrence Kleger, JMTA associate directors Nate Emge and Felix Alvarado, and camp director Greg Evans. In addition to Lawrence, Nate, Felix, and Greg, the camp will be staffed by other JMTA assistant directors and by our world class JMTA training camp staff. Our coaching approach is positive, encouraging, and motivating, as we believe this approach produces the best short–term and long-term results and maximizes a player's enjoyment of the sport. Self-confidence is absolutely essential to developing a successful competitive player in an individual sport.

Get the Best Kid-Friendly Activities
Sent to You Weekly!