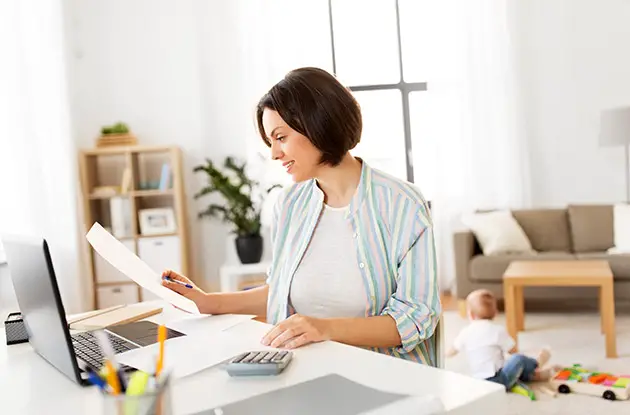 8 Steps to Improve Your Credit Score in One Year
Read on to ensure you have a healthy credit score before making the jump of buying a new car, putting a down payment on a house, or anything else that requires a loan.
Get can't-miss family activities sent to you!
Get the Best Family Activities
Sent to You Weekly!
Pro tip: Check to see if your children have a credit score. If they do and you haven't opened any accounts for them, that means they are victims of identity theft. This should be sorted out as soon as possible.

Watch Those Credit Card Balances
The smaller your credit utilization ratio (how much of your credit card limit you use month to month), the better for your score. So, to have an immediate impact, you want to pay your debt down, D'Ordine says.
Another way to lower your utilization is to increase your credit lines. "This way, you can spend the same amount or more without a negative ding, because your utilization amount is higher," McKinney says. Remember: Just because you have a higher credit line, doesn't mean you need to use more credit.

Pay Off Debt
If you find yourself stuck in debt across multiple credit accounts, Lunduski recommends the Avalanche Method, explained by his colleague Brendan Harkness. First, make the minimum payments on all of your accounts. Then, put as much extra money as possible toward the account with the highest interest rate. Once that debt is paid off, start paying as much as you can on the account with the next highest interest rate. Use this method until all of your debt is paid off.
"After any debts are paid off, ensure that you're using your credit cards with discipline," Lunduski adds. "Always make sure you're paying off your statement balances on time and in full to take advantage of the grace period most cards have to avoid expensive interest."

Pause Before Closing Card Accounts
Many people believe closing a credit card is better for credit scores, but, in fact, it can have the opposite effect. "Young people who opened their first card in college will move to others for points or miles, and will close their first card," McKinney says. "This will bring down your total available credit and average account age." So, keep your starter credit card from college in addition to newer cards with better benefits because it will boost two categories of your FICO criteria. As long as a card is paid off and has no annual fee, it can continue to help your credit scores. Instead of closing the account, try to lock it.

Consider Opening New Card Accounts
"Another misconception is opening a credit card hurts your credit scores. Although your credit scores may temporarily dip after applying for a new card, you won't face any long-term negative effects unless you max your new card out and accumulate debt or don't pay on time," Lunduski says. Opening a new card raises your total overall credit limit and can help lower your credit utilization ratio. You'll take a hit in average account age in the short term, but more cards can help you in the long term.
While a new credit line increases your overall limit, D'Ordine warns against opening a handful of credit cards willy-nilly. "It's not worth that one-time, 20-percent discount to go open a credit card with a store every time you purchase something from there. You'll lose track of stuff, it's easy to let these things creep up. The interest rates are usually unfavorable, and it's bad news," D'Ordine says. Instead, research what credit card is best for you, whether you want to earn airline miles, cash back, or points for other benefits, and try to choose one with a lower interest rate.

Don't Let Past Mistakes Haunt You
"Because too many cards can become unmanageable, get them all paid in one day," McKinney advises. You can ensure your bills are being paid on time by changing the payment dates, turning on online-billing Auto-Pay, which automatically takes money out of your bank account, or paying as soon as you get a statement in the mail.
Above all, "let your life events drive your financial decisions," D'Ordine recommends. As much as you may want to live within your means, plan, and budget financial decisions, life happens. If your finances or credit need rebuilding, or it all seems a little too daunting to do on your own, don't be afraid to seek out a certified financial planner.