35 years of experience has given us the knowledge of how to teach your children best. The secret is a balanced exercise program combined with leadership training and character building activities so that your child will be more successful at home and out in the real world.
Our traditional Martial arts programs are divided up into 3 categories, Little Tigers, Children, and Teen/Adult. Registration is ongoing, so it's never too late to get started. We also offer an Afterschool Program which includes transportation, as well as Summer Camp.

Little Little Tigers (3, 4 and young 5 year olds)
In our Little Tiger class, we will introduce our youngest students to stretching, strengthening and coordination exercises. Children will learn essential and age-appropriate Taekwondo techniques in a relaxed, fun and caring environment, tailored to prepare them for a more structured Children's Program by age 5 or 6.

Children
The perfect class for your elementary school children. This program teaches the extended Taekwondo curriculum in a fun and dynamic class designed to motivate your children to learn and excel while they are having fun.

Teens and Adults
For teens and adults, Taekwondo offers one of the most complete and vigorous workouts available with the benefit of learning the most powerful martial art. Lose weight, release stresss, meat positive people and unleash your hidden potential.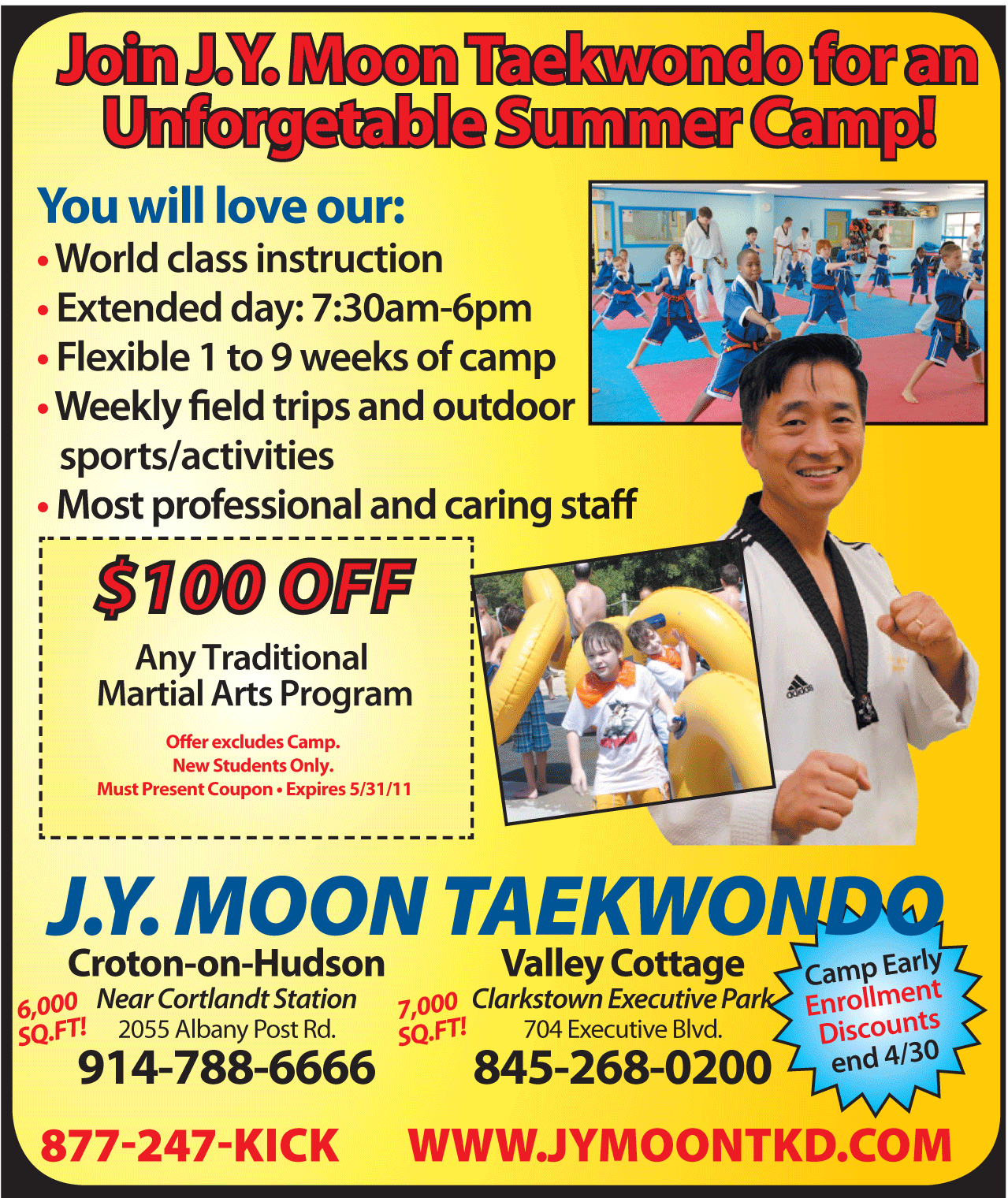 CLASSES/PROGRAMS-MARTIAL ARTS
Introduce your children and family to the martial arts at J.Y. Moon Taekwondo. The following two reasons alone will help all family members improve their lives. (1) Learning and mastering self-defense techniques through Taekwondo practice will improve confidence and self-esteem, key ingredients to eliminating bullying in your children's life. (2) The practice of Taekwondo promotes vigorous exercise, which is a must in today's sedentary society. Exercise promotes an awareness of healthy habits, including healthy eating habits. Call for a free trial lesson for anyone in your family, ages 3 or older.

Mr. Ji Y. Moon, an eighth dan Taekwondo grandmaster with an MA from Columbia University and an MBA from NYU, has dedicated all of his adult life to helping children and adults improve their lives through the practice of the martial arts. Mr. Moon and his staff have brought to Rockland County an exciting and innovative summer camp, packed with learning and fun activities. Their full day summer camp offers a world class martial arts curriculum coupled with unforgettable recreational activities and field trips.
Want to learn more about this business? Send them a direct inquiry.
Be a good fellow parent and share this with a friend who would be interested
Read More on NYMetroParents.com:
Taekwondo Studio Offers Women's Self-Defense Workshop
Counterstrike, a women's self-defense workshop created by Arnold van Deuran, Ph.D., director of Workout Place, is now offered to women in Bardonia. The self-defense class for women in Bardonia teaches young women the skills they would need to fend off an attacker.

Hastings Yoga Offers Class for Expecting Mothers
Westchester yoga studio Hastings Yoga now offers a prenatal yoga class for expecting mothers. Each pose that is part of the class benefits pregnant women by stretching their bodies and can be used to help with pain during labor.

Theater Review: Off Broadway's 'Old Hats'
"Old Hats," the Off Broadway show by comedy duo Bill Irwin and David Shiner, combines old-school vaudeville with live music and modern technology for a mostly family-friendly show brimming with irony and hilarity.

Central Park Taekwondo Offers Family Fun at a Discount
Central Park Taekwondo, a martial arts center on the Upper West Side, now offers weekly memberships for kids, teens, and adults. It's variety of programming offers tae kwon do classes for children and adults, as well as family and mommy and me classes. Central Park Taekwondo also offers a family discount.

'Bunnicula': The Ultimate Hare-Raising Musical
Bunnicula, the popular book series by James and Deborah Howe, is brought to the stage of the DR2 Theatre in Manhattan in a new musical brimming with mystery, music, and wit. Both fans of the books and kids who are new to the story will find something to love in this show.

Chinese Lunar New Year Events in NYC
Wondering where to celebrate the 2013 Chinese Lunar New Year in New York City? Here are TK fun and low-cost family events in Manhattan, Brooklyn, and Queens, including festivals at museums, libraries, and cultural centers in Chinatown and across the city.

Family Outing: Lower Hudson Valley Challenger Center
At the Lower Hudson Valley Challenger Center in Airmont, NY, more recently known as the Town of Ramapo Challenger Center, kids can become astronauts for a day and families can go on space missions to the moon, Mars, and beyond.

A List of Cultural Festivals in the New York Metro Area
We're lucky to live in the New York metro area, a virtual melting pot of cultures. So if your budget doesn't allow for family jaunts to India, South Africa, and other exotic locales, you can still introduce your kids to the cultures of the world in your own backyard by attending one of these celebrations in Rockland, Westchester, Nassau, Suffolk, and Fairfield counties, as well as Manhattan, Brooklyn, and Queens.

A Long Island Nonprofit Helps Military Moms-to-Be through Operation Shower
Operation Shower, a Long Island nonprofit organization, provides baby showers for expectant moms of military families to help ease the burden of deployment.

Our Top 10 List of Current Kindie Rock and Family Music CDs
One local music-loving dad give us his list of top 10 current kindie albums that will be popular with the whole family.