It isn't easy to be hopeful when your child is afflicted with ADD/ADHD, Dyslexia, Autism/Asperger's, Tourette's, a Learning Disability, OCD or Processing Disorder, however the Brain Balance Program offers children and families real solutions. We have helped hundreds of children become more focused, improve academic performance, and enhance their communication and social skills.
We are brain-based, not drug based.
We subscribe to the theory that the brain can be changed—something once thought impossible. That means your child's problems aren't permanent, and the situation isn't hopeless.
We recognize that many childhood disorders are actually manifestations of a single underlying condition.
Called Functional Disconnection—an imbalance in the connections and function between and within the hemispheres (sides) of your child's brain—this condition is responsible for a host of behavioral, academic, and social difficulties.
We measure and improve your child's brain and body function on numerous dimensions.
To gain a full understanding of your child's difficulties we first conduct a comprehensive assessment of all areas of their brain and body function. Then, by integrating physical and cognitive exercises with dietary change, we are able to correct the underlying imbalance, improve function and reduce/eliminate negative behaviors.
We create a program tailored precisely to your child's needs.
Once we understand the uniqueness and severity of your child's challenges, we then custom design physical and cognitive activity plans and easy-to-follow dietary guidelines to establish proper connections and improve rhythm and timing. This multi-faceted approach helps your child achieve optimum body and brain function.
We support your family.
We offer an encouraging environment where your child can develop while giving you continual real-time feedback, expert consultation, and assistance.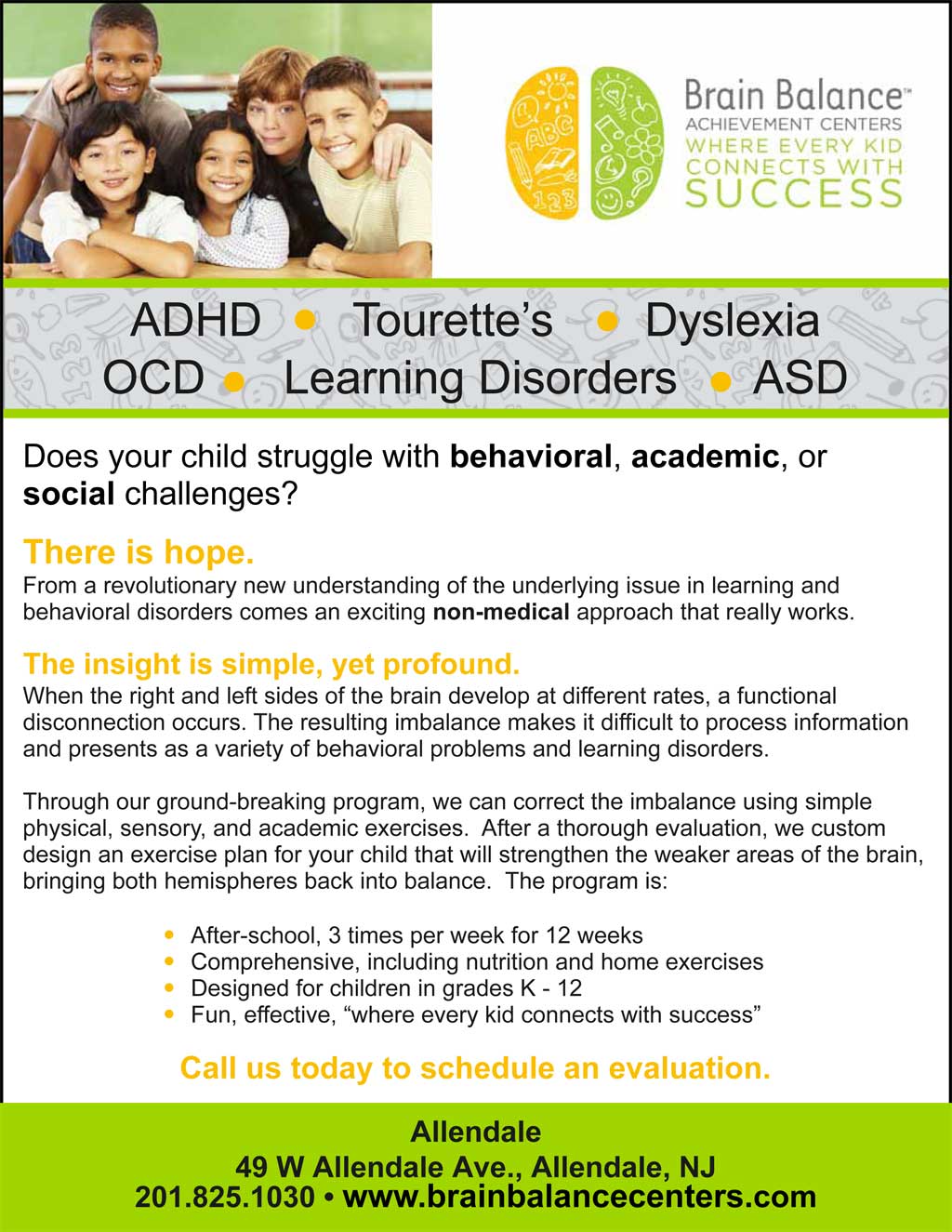 Want to learn more about this business? Send them a direct inquiry.
Be a good fellow parent and share this with a friend who would be interested
Read More on NYMetroParents.com:
Long Island Dad on Mission to Make Swim Time Safer for Kids
One Long Island dad is making it his mission to teach children about pool and swimming safety through the Long Island Drowning Prevention Task Force.

11 Fun Father's Day Events on Long Island
Looking for fun and low-cost things to do with your dad on Father's Day in Long Island? Our guide includes 11 family-friendly events in Baldwin, Cold Spring Harbor, Floral Park, Old Bethpage, Oyster Bay, Riverhead, and Rockville Centre.

Summer Activities in Rockland County, NY
Searching for great summer activities for kids in Rockland County, NY? Use our guide to find kids classes, Rockland summer camps, summer programs, activities near Rockland County, and family excursions close by. Find all of your summer activities from Nyack to Suffern in Rockland County.

Meet the Intern: Melanie Shapiro
Meet Melanie Shapiro, one of NYMetroParents' summer 2013 editorial interns.

Talent Development Center Opens in Melville
Talent development center Tower Talent recently opened a location in Melville. The center scouts for and coaches aspiring actors, performers, and models to gain representation from an agency and book jobs. Tower Talent also brings industry representatives to Melville to interview its talent.

Asphalt Green's Battery Park City Location Offers Family Programming
Asphalt Green's new Battery Park City location offers the same athletic and fitness programming to youth, adults, and families, as well culinary and cultural classes. Asphalt Green also offers summer day camp for children ages 4-13, which includes sports and swim instruction, as well as cultural arts.

7 Fun Father's Day Events in Westchester
Looking for something fun to do for Father's Day in Westchester County? Here are 7 great low-cost events for kids and families in Mount Kisco, Scarsdale, South Salem, White Plains, Yonkers, and nearby in the Bronx.

Athletic Training School Building New Facility in Port Washington
Athletic training facility Parisi Speed School is currently holding its classes at the Port Washington Tennis Academy while its new facility is being built. The training center offers fitness classes for ages 7 to adult that build agility, strength, speed, and self-confidence, while helping athletes get and stay in shape.

Catch Disney's Dusty of 'Planes' at NYC's Air Show at Jones Beach
Kids will delight when they see the surprise guest -- Dusty, the star of Disney's new movie "Planes" -- at this year's Bethpage Air Show at Jones Beach during Memorial Day weekend.

Village of Ossining Celebrates Its Bicentennial
The Village of Ossining is celebrating its 200th birthday with an outdoor sculpture exhibit, "Ossining in 3D," that weaves through the Village's historic buildings and downtown waterfront area. It will be on view through Oct. 26, 2013.