Welcome to BounceU in Paramus
At BounceU of Paramus, we specialize in perfect party ideas. With our amazing inflatable structures, unbeatable customer service, and clean, climate-controlled environment, all you really have to do is show up and take pictures. Throwing a private party here couldn't be easier - just give us a call, choose one of our popular packages, and let us take care of the food, the cleanup, and everything else.
BounceU of Paramus - Where Kids' Birthday Parties Are Non-Stop Fun
Kids flip for our unbelievably cool bounce stadiums (imagine the ultimate children's playground experience in a safe, indoor setting), but they also can't get enough of the games, the food, and sharing the spotlight with family and friends. You'll love the looks on their faces when they walk in, and nothing beats leaving with the feeling that your big day has been a truly special event. It's no wonder we're one of New Jersey's favorite party places for kids!
Experience the Private Party of a Lifetime at BounceU of Paramus
Incredible kids' birthday parties are only the beginning at BounceU. From Programs and classes, to fundraisers and team parties, we're excited to host just about any group that wants to get its bounce on. And if you just can't wait until your next BounceU party, contact us and reserve a spot at one of our famously fun Open Bounce sessions!
BounceU Events in Paramus:
03-19-13

:
"

FAMILY NIGHT BOUNCE 2013

"
Time: 6:00 PM - 8:00 PM
Event: FAMILY NIGHT BOUNCE 2013 Price: 10.95
Please call to reserve: (201) 843-5880
03-20-13

:
"

PRESCHOOL PLAYDATE 2013

"
Time: 10:00 AM - 11:30 AM
Event: PRESCHOOL PLAYDATE 2013 Price: 9.95
Please call to reserve: (201) 843-5880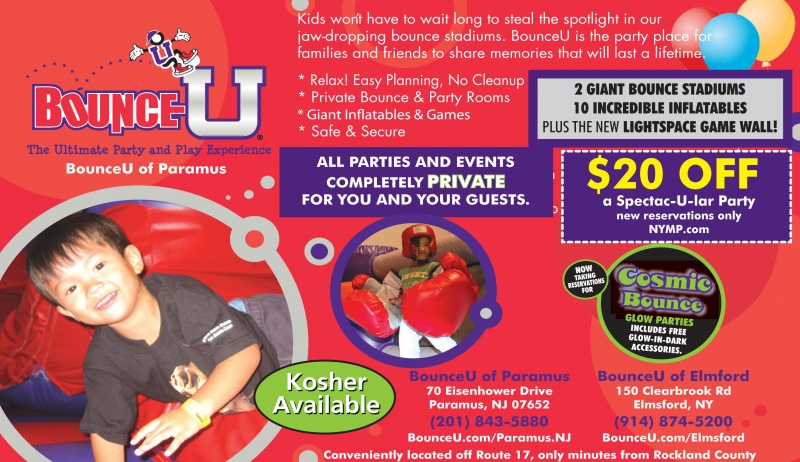 Want to learn more about this business? Send them a direct inquiry.
Be a good fellow parent and share this with a friend who would be interested
Read More on NYMetroParents.com:
Summer Activities in Westchester County, NY
Do you need great summer activities for kids in Westchester County, NY? Use our guide to find kids classes, Westchester summer camps, summer programs, activities near Westchester County, and family excursions close by. Summer activities in Westchester are at your fingertips.

Carousels in Rockland and Westchester Counties
Our list includes carousels and merry-go-rounds in Rockland County and Westchester County in New York as well as Bergen County, NJ. Get details on carousels in Bear Mountain, Rye, and West Nyack, NY, as well as nearby in Paramus, NJ.

Mini Golf Courses in New Jersey
Find miniature golf courses in New Jersey, including indoor and outdoor mini golf and putt-putt courses from Bergen County to Monmouth to Atlantic County. You'll find address, contact info, hours, prices, and a description for each course in our list.

The Best of the Rest of the Web: Parenting with Depression, Spending More Family Time, and (Not) Shedding That Baby Weight
From the NYMetroParents April issue, a selection of thought-provoking, laugh-inducing, and just plain interesting facts and quotes from the web and the world of parenting.

14 Earth Day Events in Rockland County
Our list of 14 things to do for Earth Day in Rockland County, NY, this year includes festivals at two nearby zoos and opportunities to volunteer at community cleanups in Blauvelt, Congers, Haverstraw, Montebello, Nanuet, New City, Nyack, Pearl River, Pomona, Spring Valley, and Stony Point.

How to Help Build Your Son's Self-Esteem When He Has ADHD
Boys with ADHD often have low self-esteem and feel nervous about school-related tasks, such as taking a test or being called on by the teacher. Having low self-esteem makes it difficult to make decisions and some boys with ADHD find it challenging to make simple decisions. Authors of "Raising Boys with ADHD" provide advice on how to help boys with ADHD build their self-esteem.

A Guide to Fun For Families in the NYC Area with Kids with Special Needs
New York is brimming with kid-friendly events and activities that are fun for the whole family. We've compiled a list of things to do with children of all abilities, including kids with special needs, in the New York City area, including Manhattan, the boroughs, New York City suburbs like Westcheter and Rockland, Fairfield County, CT, and on Long Island.

Inclusive Activities and Events for Children with Special Needs on Long Island
Children with special needs can have fun and make friends with kids of all abilities with special programming, workshops, and kid-friendly events and activities on Long Island, including in Plainview, Great Neck, and East Meadow.

Inclusive Activities and Events for Kids with Special Needs in NYC Suburbs and Fairfield County
A guide to kid-friendly activities and events in the suburbs of New York City and Fairfield County, such as Scarsdale, Westchester, Stratford, and Paramus, to help families of children with special needs, including sensory issues, have fun during these inclusive events and activities.

Produce Pete Visits Bounce! Trampoline Sports to Teach Kids About Eating Healthy
Bounce! Trampoline Sports hosted Produce Pete, aka Pete Napolitano, a regular guest on Weekend Today on WNBC in New York to teach kids about eating healthy on Feb. 7 as part of the "Have Fun Get Fit" program.