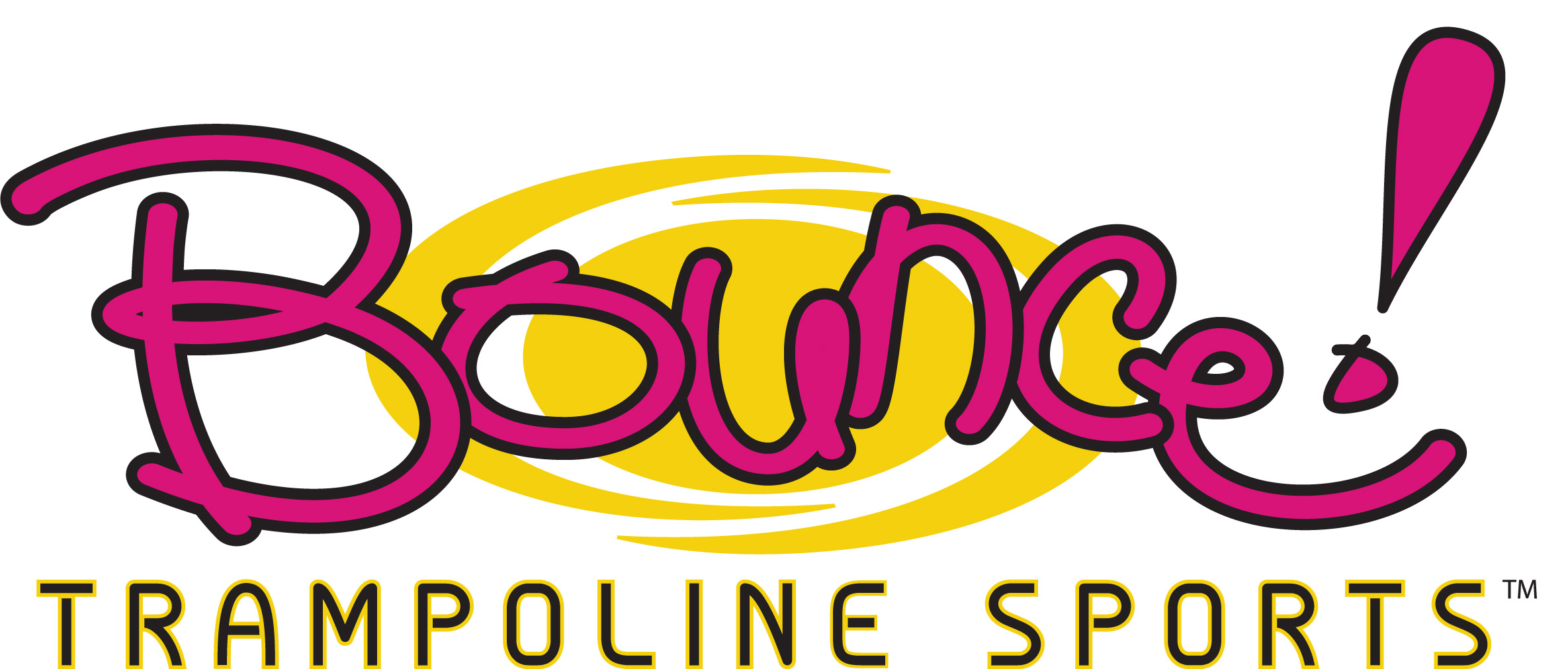 This Joint is Jumpin!!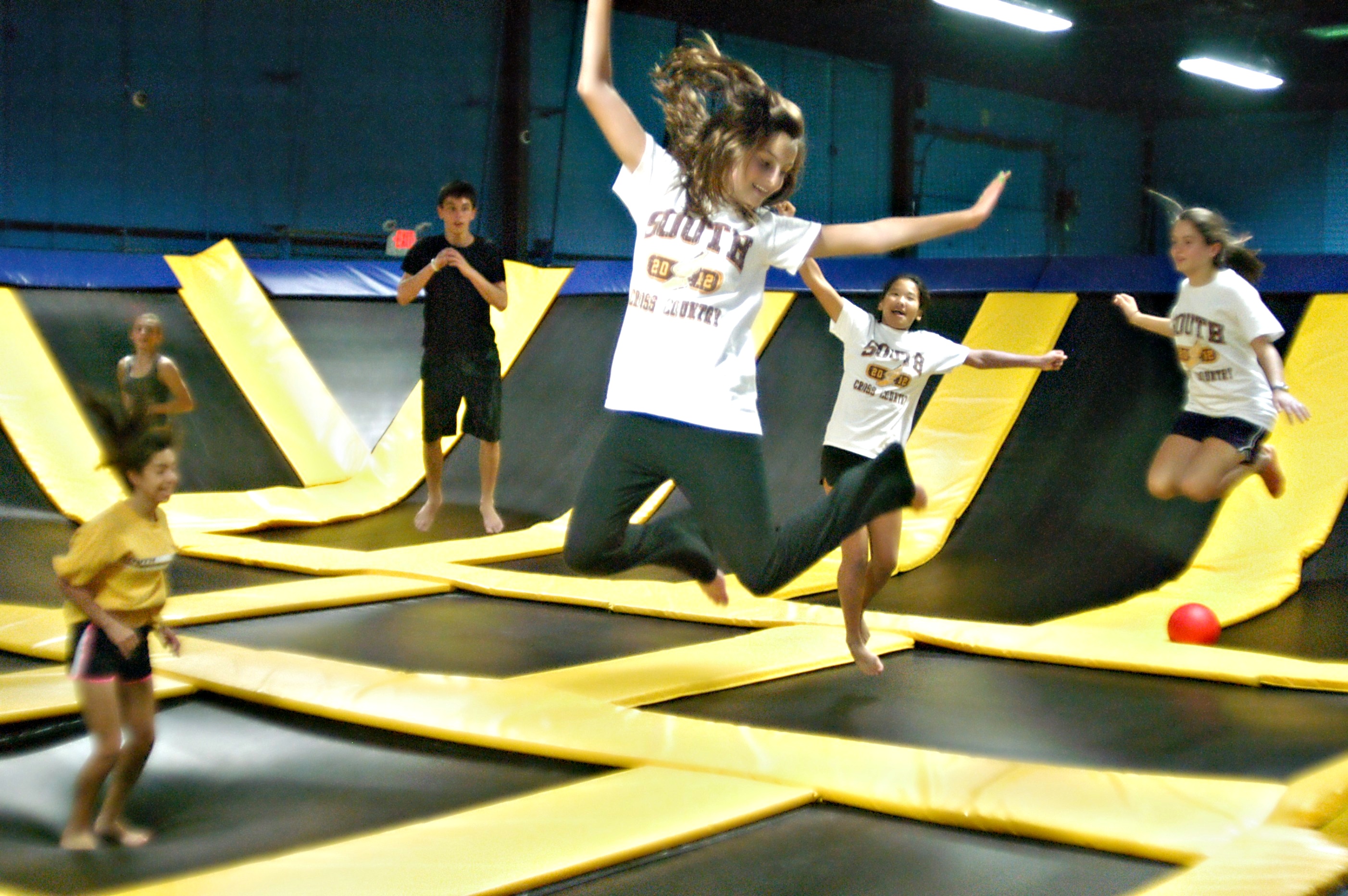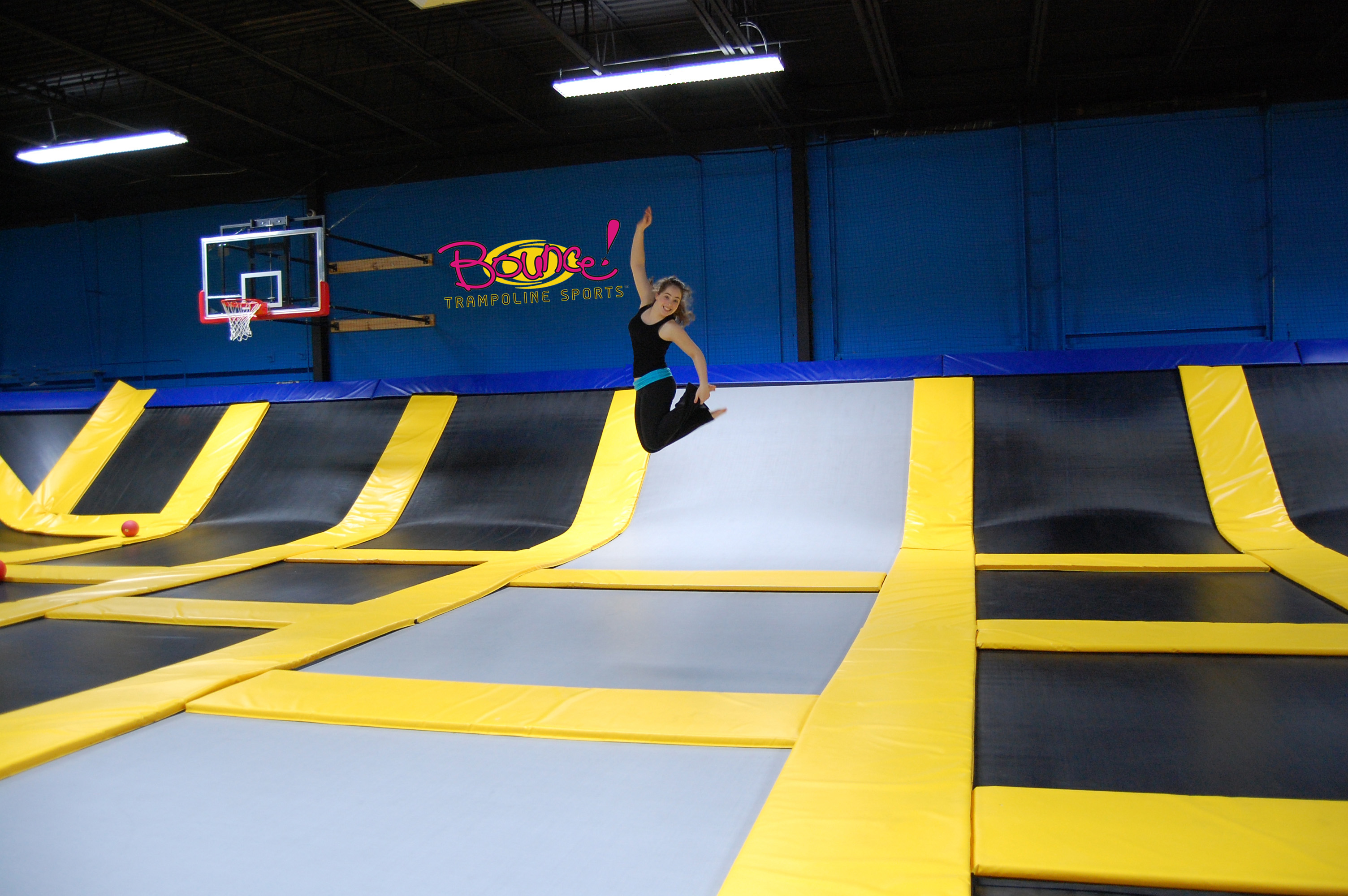 Bounce! offers the opportunity to play sports, have fun and get fit on 10,000 square feet of interconnected trampolines. Jumping on trampolines has been proven to tone muscles, burn fat, and reduce stress. The facility will offer fitness classes for all ages and levels, open jump time, trampoline dodgeball, slam dunk basketball and foam pit jumping. The unique complex offers private party rooms for birthday parties and corporate team building, a wi-fi lounge, a healthy-food-only snack bar and an arcade. There is also a separate Bounce! Jr. Zone where kids ages 7 and under can bounce on their own trampolines or into a separate foam pit.
There is no party place in the tri-state area like BOUNCE! Trampoline Sports! Guests will jump on 10,000 square feet of trampolines, bounce off trampoline walls, play trampoline dodgeball, slamdunk basketball and somersault into a giant trampoline foam pit! For ages 7 and younger we feature BOUNCE! JR., a separate zone with trampolines, foam pit and giant inflatable obstacle course. Private party rooms available. In addition to trampolines and arcade, we offer free WiFi, an HD television lounge and a snack bar stocked with healthy treats.
Come bounce off our walls!!!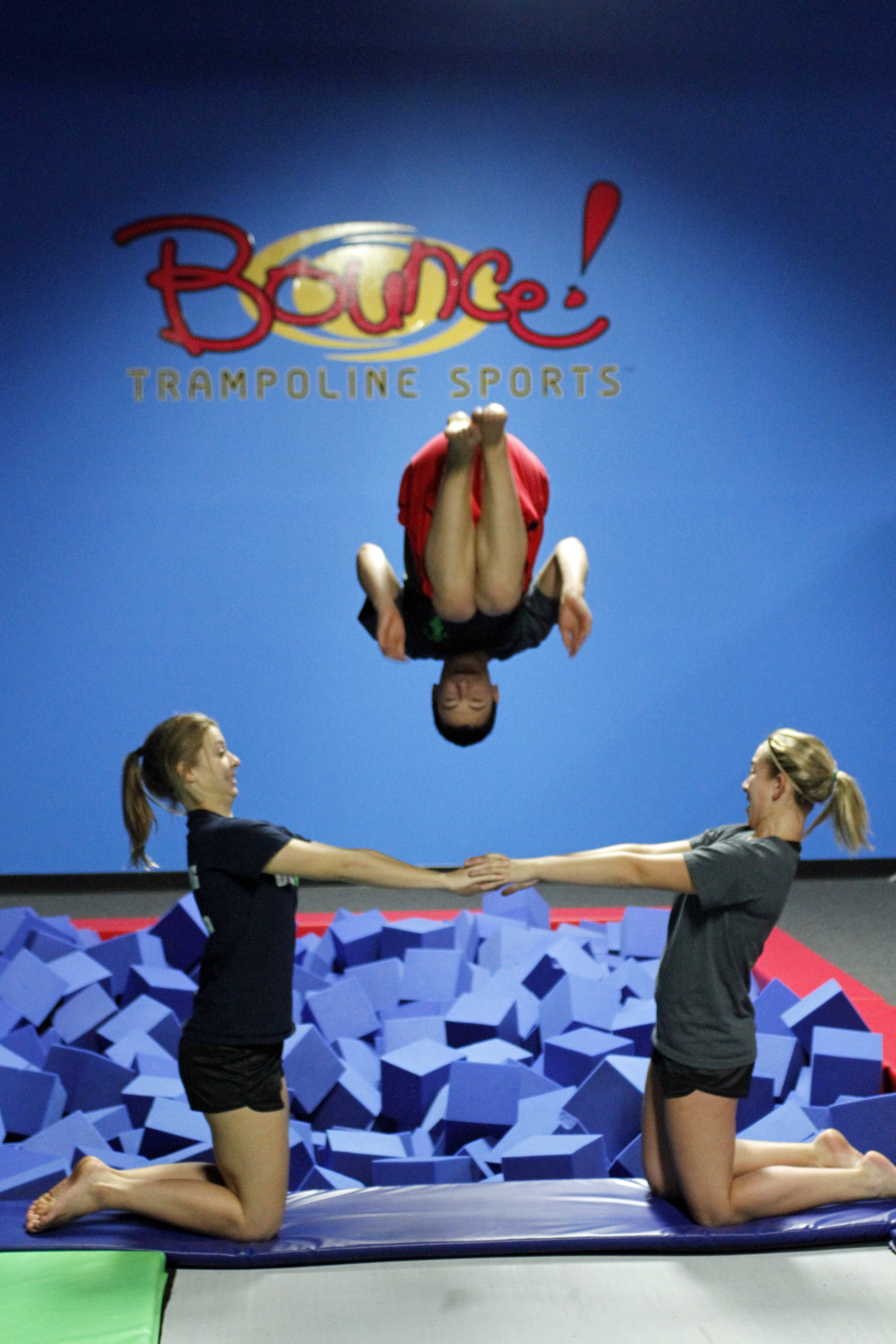 BOUNCE! TRAMPOLINE SPORTS SCHEDULES GRAND OPENING CELEBRATION TO BENEFIT FOUR IMPORTANT LOCAL CHARITIES
Saturday, November 5th, 10AM-4PM.
Bounce! Trampoline Sports has scheduled a Grand Opening Celebration for Saturday, November 5th. The event, titled "Jump for Joy: The Joy of Giving", will be a fundraising opportunity for several of the area's most worthy non-profit organizations:
CHILD CARE RESOURCES OF ROCKLAND INC.
CLARKSTOWN FAMILY RESOURCE CENTER
PEOPLE TO PEOPLE INC.
UNITED WAY OF ROCKLAND COUNTY
The grand opening, scheduled from 10 am - 4 pm on November 5th, will offer individuals a chance to experience the new facility with 100% of the proceeds being donated to the four area groups. Those wishing to participate will be able to go to the Bounce website (www.bounceonit.com) and click on the "schedule jump time" link where they can select the charity they wish to jump for on that day. Registration on the site will begin October 5th.
As an added incentive, a big fan of trampoline sports has generously agreed to match dollar for dollar the amount raised that day, up to $5,000. The non-profit organizations will split the bonus based on the percentage of people who sign up to jump for their charity that day.
"We are very excited to introduce Bounce! to the local area and with this fundraiser we have the potential to donate over $20,000 to worthy organizations," states Danny Fried, co-owner of Bounce!
While the fundraising event will take place from 10 am until 4 pm on November 5th - the official opening date for Bounce! - it will remain open through midnight as it launches its regular Friday and Saturday night schedule.
For more details visit their website (www.bounceonit.com) or become a fan of their Facebook page (www.facebook.com/BounceTrampolineSports) and follow them on Twitter at www.twitter.com/bouncesport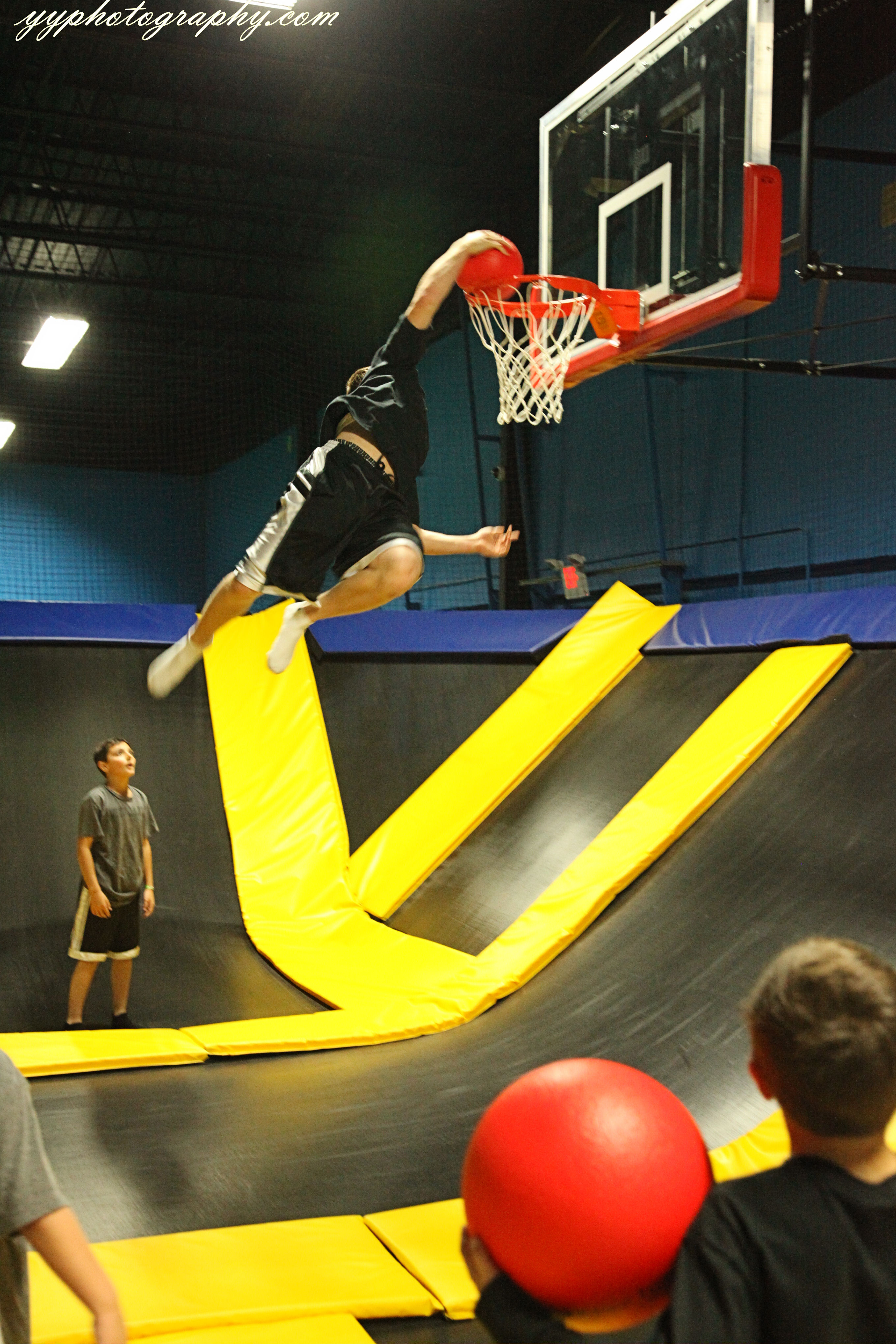 SUMMER FUN – PROGRAMS & CLASSES – PRINT GUIDE
Bounce! offers the opportunity to play sports, have fun, and get fit on enormous courts of interconnected trampolines. The facility has fitness classes for all ages and levels, open jump time, trampoline dodgeball, slam dunk basketball, foam-pit jumping, and now, nutrition support for kids and teens in conjunction with Dr. Michael Wald. Bounce! also has private party rooms, a Wi-Fi lounge, a healthy-food snack bar, an arcade, and a separate Bounce! Jr. Zone for kids ages 6 and younger. School, camp, and group trips welcome. Fundraising opportunities available. Coming soon to Syosset!
Read More About Bounce! Trampoline Sports
Summer Activities in Westchester County, NY
Do you need great summer activities for kids in Westchester County, NY? Use our guide to find kids classes, Westchester summer camps, summer programs, activities near Westchester County, and family excursions close by. Summer activities in Westchester are at your fingertips.
Produce Pete Visits Bounce! Trampoline Sports to Teach Kids About Eating Healthy
Bounce! Trampoline Sports hosted Produce Pete, aka Pete Napolitano, a regular guest on Weekend Today on WNBC in New York to teach kids about eating healthy on Feb. 7 as part of the "Have Fun Get Fit" program.
Healthy Lifestyle Pilot Program Has Kids Bouncing Off the Walls
This fall, kids in Rockland and Westchester counties will be able to get fit and learn about a healthy lifestyle by participating in a pilot program at Bounce! Trampoline Sports. The kids who participate in the pilot program will help develop a fitness program for kids in the future.
Featured Birthday Parties Listings for 6/3/2012
Discover children's birthday party planners, birthday party places and entertainers in the New York area. They also arrange parties in Westchester, Rockland, Fairfield Counties, and Long Island, both Nassau and Suffolk Counties. Many of these party resources will come to your home or serve as the host. If you are looking for a venue for your child's birthday party that will be exciting, safe, different and easy, check out the providers listed below or visit nymetroparents.com
Summer Fun in the Shade
This summer, whether it's a rainy day or you're trying to take a break from the sun, there are plenty of fun indoor activities to keep your child active, healthy, and anything but bored.
Bounce! Rockland's Grand Opening Will Benefit Four Local Charities
Bounce! Trampoline Sports, a new sports facility in Rockland County, has planned a Grand Opening Celebration from which it will donate 100 percent of proceeds to four local charities.