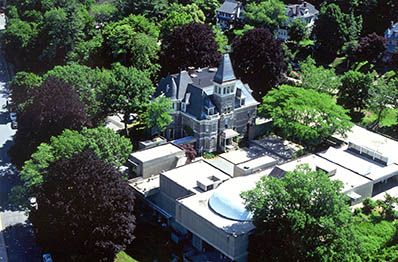 Introducing Your Child to Museums: How to Make the Visit a Success!
Get can't-miss family activities sent to you!
Get the Best Family Activities
Sent to You Weekly!
For Toddlers: Offer Guidelines and Activities
Curious and energetic, toddlers will get a lot out of the museum's environment, as well as its sensory programs. Just make sure to leave before they grow tired, bored, or over-stimulated.
Explain appropriate behavior: "Starting with toddlers and young children, you want to show them what's appropriate behavior in a museum so they can really enjoy going," Kloecker advises. Let them know whether touching is allowed, and discuss museum-level voices and the need to walk, not run. Laying out this groundwork means less scolding from you, and prevents reprimands from guards.
Turn it into it a game: Use activities such as I Spy to help your child explore the museum and interact with what they find there. "Working with a familiar framework that your kid is used to for exploring the world works really well for exploring art," Libicki says. You can make up songs, play scavenger hunts, or choose something to tally up—for example, "How many baby animals do you see?" or "Do you see 10 squares on that painting?" These games encourage interaction, Libicki says, and you may find yourself surprised by what your child sees in the artwork and what they're capable of communicating.
Make it a playdate: Have your child bring along a friend. This allows toddlers to experience the museum with someone at their same developmental level. "Two kids of the same age can have a meaningful conversation together," Libicki says.
For Big Kids: Provide Choices
Should you visit an interactive, kid-friendly museum or a look-and-talk museum? Let your child's maturity level and preferences guide you.
Foster independence: "Once kids are older, let them have some agency in where you're going," Libicki recommends. Big kids can pick where you'll go in the museum (you can go online together to map out the trip) or which museum you'll visit in the first place. "Let the child explore and discover things on their own—let them direct the trip a bit," Kloecker advises.
Seek out kid-friendly audio guides: Many museums have audio guides, apps, or activity sheets tailored for kids. This independent interaction will make kids feel cool, while still encouraging them to look and experience, Libicki says.
Have kids create art: Look for benches situated by the artwork or other exhibits, and have kids use pencil and paper or even a tablet to sketch and draw. Many museums will allow colored pencils—just leave the watercolors at home. "If kids like to sketch or write and reflect, you can label one notebook 'museum journal,' and then you have a place to look back at all your experiences at the museum," Libicki suggests.
REALTED: Find Other Fun Activities In Your Area
Sign up for our newsletter to receive the latest updates on events and family activities near you.
Main photo:The Hudson River Museum in Yonkers
Photo by Steve Turner, for Great Houses of the Hudson River, Little Brown, NY.