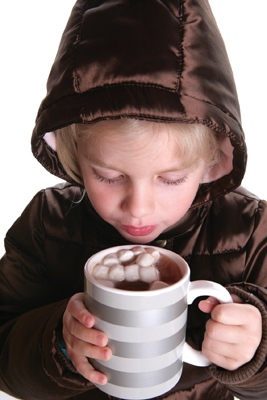 We've highlighted some of the coziest cafes and sweet stops in Rockland County, NY, where families can grab a steaming mug of cold-weather beverages like hot cocoa or tea. . The next time you venture out in the sleet and snow to gather a few more gifts, make it a point to take a break and treat yourself (and your little holiday helper, of course!). Before you know it, the grumpies will be gone, and you'll be left with that warm, fuzzy, I'm-Dreaming-of-a-White-Christmas feeling.
The newly expanded back seating section of the Art Café of Nyack welcomes more guests to taste the café's wide selection of hot beverages. It serves organic, herbal, floral, and black teas, as well as specialty teas and a Moroccan mint blend ($2.25-$2.50). It also has a chai latte ($3-$3.50), a traditional hot chocolate, and a hot white chocolate ($3.15-$3.65). For those looking for something different, the café offers steamers - a hot milk drink that comes in flavors like caramel or vanilla ($3.15-$3.65) - or a seasonal hot apple cider ($2.75-$3.50). In addition, Art Café has a full menu of breakfast and lunch specialties. Open Monday-Thursday 7am-4pm, Friday-Sunday 7am-5pm. 65 South Broadway, Nyack. 845-353-4230.
Bunbury's Coffee Shop boasts an impressive selection of 20 loose leaf teas including herbal, black, and green teas, as well as fruit tisanes ($1.75-$2.35). Among its long list of hot beverages is a homemade hot chocolate ($3.75-4.75), and with the fall season comes the addition of a hot apple cider served with cinnamon sticks ($1.75-$2.35). Other fall offerings include pumpkin harvest and apple cinnamon muffins. Open Monday-Friday 6am-6pm, Saturday-Sunday 7am-6pm. 460 Piermont Avenue, Piermont. 845-398-9715.
Lulu's Café is a retro-inspired family spot with a full menu of teas, hot chocolate, and meals. Carrying both traditional teas and seasonal flavors like apple and pumpkin ($1.95), the café also offers a chai latte ($3.50) and Ghirardelli hot chocolate topped with whipped cream, chocolate chips, and chocolate syrup ($3.25). Stop by for brunch on Sundays. Open Tuesday-Sunday 11:30am-9pm. 726 West Nyack Road, West Nyack. 845-358-5822.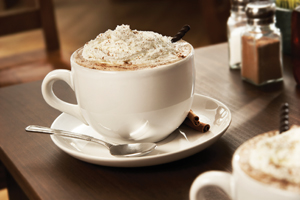 Temptations Café is a rustic and cozy spot, perfect for families. The café serves about 25 flavors of tea, including herbal, black, and green varieties ($1.50-$2.25), as well as a delicious chai latte ($3.95). Hot chocolate lovers can indulge in the homemade version, which is topped with whipped cream ($2.95-$3.75). The café is also home to soups, sandwiches, and sundaes. Open Sunday-Thursday 11:30am-10pm, Friday-Saturday 11:30am-11:30pm. 80 ½ Main Street, Nyack. 845-353-3355.
See our complete guide to the best hot chocolate and tea spots in the NY metro area