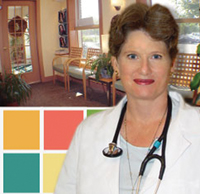 Meet some of the health care professionals in the Rockland County area.
Dental Wellness of Suffern
Sherri Alpert, D.D.S.
2 Executive Blvd, Ste. 307, Suffern
(845) 918-1801
www.dentalwellnessofsuffern.com
We provide natural, effective and quality dental care for you and your family. We make your visit enjoyable, comfortable and relaxing. As a parent, Dr. Alpert enjoys working with children who are apprehensive about seeing a dentist and creates a fun environment with magic tricks, interactive Wii games, a wall mural, and a "Find the Dental Helpers" game. Author of two books, "Cassandra Gets Her Smile Back," and "Attack of the Sugar Bugs," Dr. Alpert makes visiting the dentist fun. Dental Wellness of Suffern-let us create the smile you were born to have.
Carl Germano, RD, CNS, CDN
The Nutrition Therapy Center
971 Rte. 45, Suite 106, Pomona
(845) 499-0420
www.thenutritiontherapycenter.com
Carl Germano is a registered, certified clinical nutritionist with over 30 years experience in the field of clinical nutrition and product development, the author of 7 books, a frequent radio guest and developer of numerous nutritional products for the medical and dietary supplement industries. The opening of the first Nutrition Therapy Center offers the most comprehensive, state of the art nutritional services that address the concerns of those with chronic degenerative diseases to the performance oriented athlete. Services include nutrition genetic testing, computerized diet analysis, segmented body composition assessment, metabolic rate analysis and nutrition management programs.
Isadora Guggenheim, ND, CNS, LMT
Second Nature Naturopathic Care
8 Rockland Place, Suite 1A, Nyack
(845) 358-8385
www.secondnaruercare.com/www.naturonews.blogspot.com
Dr. Guggenheim is a board certified and licensed naturopathic doctor, nutritionist and licensed massage therapist. She has expertise in environmental detoxification, cancer prevention/support, autoimmune disorders, inflammatory arthritis, asthma, skin conditions, food allergies, digestion issues, inflammatory bowel disease, cardiovascular disease, women's issues, vaccine injury, learning disabilities, smoking cessation and permanent weight loss. We test and treat children for food allergies, heavy metal toxicity, behavioral issues, vaccine injuries, eczema/psoriasis, Lyme, and asthma. We also offer a safe oral flu vaccine for just $20, which is 49% more effective than the flu shot and, no needle!
Robin Korngold, L.C.S.W.
Lifestyle Reconstruction Weight Control Center
125 South Main St, New City
(845) 638-2822
www.LifestyleRecontructionChat.com
Robin Korngold is the co-founder of Lifestyle Reconstruction Weight Control Center and specializes in the treatment of eating disorders and childhood obesity. She is a nutrition specialist, psychotherapist and personal trainer, certified by the American Council on Exercise. She is at the forefront of helping overweight children lose weight and get fit without feeling deprived. She has appeared as an eating behavior expert and child obesity consultant on Fox News, WRCR Radio, Rivertown Magazine and Cablevision. She provides children with a roadmap that includes: behavior modification, nutrition counseling, and individualized exercise programs.
Lotus Physical Therapy for Women, PLLC
105 Shad Row, Piermont
(914) 282-5532
Lotus Physical Therapy for Women offers specialized physical therapy care for women with prenatal/postpartum conditions, pelvic floor dysfunction, pelvic pain, incontinence, pelvic prolapse and orthopedic conditions. Luba Starostiak, physical therapist and director has been practicing physical therapy for nearly two decades. She is a Board Certified orthopedic specialist and has served on staff at several New York teaching hospitals including Hospital for Special Surgery, Hospital for Joint Diseases and Helen Hayes Hospital.
Michal Luchins, OD
Family Vision and Learning Center
1 Executive Blvd, Ste. 105A, Suffern
(845) 369-3235
www.optometrists.org/DrLuchins
Dr. Luchins, Optometric Physician, specializes in Developmental Optometry and Vision Therapy. Her post-graduate work includes Special Education, Cognitive Psychology, Autism, ADHD, TBI and Pediatric Audiology. She is a member of the American Optometric Association and the College of Optometrists in Vision Development, and is certified in Processing and Cognitive Enhancement. She runs the Family Vision and Learning Center in Suffern which specializes in the evaluation and treatment of hidden vision problems. These include Computer Vision Syndrome, headaches, lazy eye, increasing nearsightedness, dry eyes, dyslexia/ reading and learning difficulties including nutritional counseling.
Dave Oldenhage
Massage & Bodywork, Inc.
180 Phillips Hill Rd, Building 1, New City
(845) 634-8822
Founded March 2007, Dave Oldenhage, Massage & Bodywork, Inc. presents massage therapy and structural bodywork sessions with the mindful intent of promoting a positive light through the power of touch. Dave is a New York Licensed Massage Therapist (LMT), a Nationally Certified Therapeutic Massage and Bodywork therapist (NCBTMB), holds Bachelor of Science degree (1992) in biology and community health, a professional member of the American Massage Therapy Association (AMTA) and has advanced certifications in Thai and Sports massage. He staffs six New York State licensed therapists and bodywork practitioners.
Pediatric and Adolescent Medicine
Joshua E. Chesir M.D., F.A.A.P
Sharon Ronan M.D., F.A.A.P
337 N. Main St, Ste. 4, New City
(845) 634-7900

www.drchesir.com
Dr. Chesir is a Board Certified Pediatrician with a special interest in asthma and other lung disorders of children. Dr Sharon Ronan has joined Dr. Chesir in practice, and has enabled us to expand our care, especially to older girls who prefer a female physician. We strive to deliver compassionate, personal medical care to your children. Because we are a small practice, we are able to get to know both you and your children well!
Pediatric Physical Therapy Services
Linda H. Fuller, PT, PCS
217 Rte. 303, Valley Cottage
(845) 268-6010
www.pediatricphysicaltherapyservices.com
LindaFuller.PT@verizon.net
Linda received her Bachelor of Science degree in 1989 from the Department of Physical Therapy at New York University. Since graduation, she has specialized in pediatric physical therapy in a number of environments including hospitals, neonatal intensive care units, schools, home-based and private clients. In June 2000, Linda became Board Certified in Pediatric Physical Therapy. Subsequently, she pursued her study of yoga and its benefits for children. Linda was certified in Yoga for the Special Child in July 2002 and Intensive Suit Therapy in August 2003.
PM Pediatrics
16 Indian Rock Plaza, Rte. 59, Suffern
(845) 357-KIDS
Drs. David and Jo Feingold are the husband and wife team that started and operate PM Pediatrics of Rockland. These board certified physicians are specially trained in Pediatrics and Pediatric Emergency Medicine. After 12 years of running a busy, inner city ER, they wanted to offer our community's children a high level of afterhours pediatric urgent care that was not previously available. PM Pediatrics is open 365 days a year until midnight, treating a broad array of illnesses and injuries in a family-friendly environment.
Rockland Family Chiropractic Care, PC
719 W. Nyack Rd. Suite 21, West Nyack
(845) 535-3643
A resident of Rockland County for thirty years, Dr. Mariyam Mathew received her chiropractic education from Life University in Marietta, GA. She carefully chooses chiropractic procedures for your comfort and safety and offers flexible fee schedules to meet family and individual wellness needs. Dr. Mathew cares for both children and adults at RFCC. Her personalized approach gives her the ability to incorporate techniques in a gentle, caring manner to all her patients. Her techniques offer the most complete and effective care for enhanced nervous system function.
Rockland Pediatric Dental Associates PC
238 N. Main St, New City
(845) 634-8900
www.rocklandpediatricdental.com
The Doctors of Rockland Pediatric Dental and Orthodontics are proud to provide thorough, uncompromising, state-of-the-art dental care with a commitment to the health and welfare of the whole child. Dr. Ralph Berk supports the team with his 32 years of experience and expertise. Drs. Dorit Hermann and Anne Paul are trained specialists in Pediatric Dentistry and children with special needs. Dr. Jason Hartman is a Board Certified Orthodontist creating wonderful smiles for children and adults. We value and respect every parent and child we have the privilege to serve.